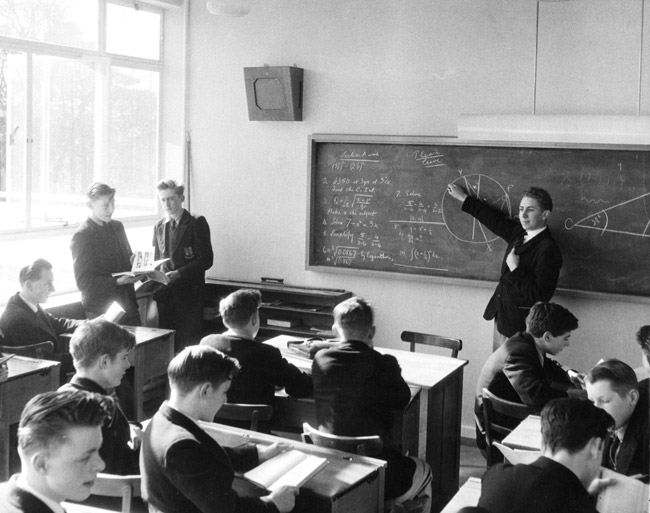 I can tell that we need a little background about condensation and cloud formation if we want to get a handle on this contrail caper. Let's begin with the definition of a contrail according to the National Audubon Society Field Guide to North American Weather:
"a straight, narrow line of ice crystal clouds produced by flying aircraft. Condensation trails(contrails) may occur in several short segments at various angles to each other, depending on flight paths."
Contrails are really nothing but man-man cirrus clouds. Like cirrus clouds, contrails are found at high levels of the atmosphere, generally 25,000 to 35,000 feet in a nearly saturated environment where air temperatures are very cold…typically colder than 25 degrees below zero Farenheit. When an aircraft, jet or turbo prop, flies through such an environment, the engine exhaust emits not steam but water droplets. Those water droplets freeze into ice crystals. If the environment is very dry, however, evaporation or sublimation occurs and there is no cloud or trail formation. When a trail of clouds is formed, it will last as long as it is in a nearly saturated environment. If it is marginally saturated then the trail will disappear relatively rapidly. If it is nearly saturated, then it will last. This type of phenomena has been recorded and noted since the advent of higher altitude aviation, most prominently in high altitude bombing by the Allies in WWII with such aircraft as the B-17 Flying Fortress or the B-29 Superfortress. In both cases, long lasting contrails allowed the enemy to pinpoint the aviator's location so contrails were not a bomber pilot's friend.
A warming environment or one with dry air intrusion will cause the trail to dissipate through sublimation. A lowering of temperatures or one with moisture intrusion increases condensation and therefore more clouds, not less.
Again, the Aududon Society explains: "When the the air at the aircraft level is near saturation, a contrail may last a long time. When they start to become diffuse, contrails can spread to form a major cloud cover…The amount of air traffic over a region also strongly influences the occurrence of contrails. An increased number of contrails, together with portions of other stratiform clouds moving into an area, may indicate a local atmospheric change due to an advancing weather system."
I thought about this when I was at the Bats' game last night. I looked up and saw a jet with a contrail going east while another crossed the trail behind it going south. The trails made a T-formation. Above those two trails was another jet with a trail that lasted for maybe 15 seconds behind it. The environment in which it flew was way too dry to produce a lasting cloud while below, the cold atmosphere had more moisture. At about 2000 feet, there was a SW Airlines plane making a final approach to Standiford Field. There was no contrail. Its not cold enough to produce contrails at low levels and the atmosphere was nothing close to saturation necessary to form other cloud types.
Just remember, while sometimes the simplest explanation is the most reliable, more often the truth is not found on the surface but instead requires careful analysis and thought. Calling someone names does not make them wrong nor change the facts.
For more insight, see the following reputiable sources:
Holton, James R. An Introduction to Dynamic Meteorology. 2nd edition (London: Academic
Press Inc, 1979)
Battan, Louis J. Fundamentals of Meteorology. (Englewood, NJ: Prentice-Hall, 1979)
McIlveen, Robin. Basic Meteorology: A Physical Outline. (Berkshire, UK: Van Norstrand
Company Ltd., 1986).
This Date In History In 1864, JEB Stuart went down for the count and pretty much ended Robert E. Lee's hopes of any recovery. 1976-Marcus Welby MD aired its last episode.,..if you believe the tabloids what followed was a tragic demise for Robert Young. James Brolin later hooked up with Barbara Streisand(not that I read the tabloids).
In 1970 a big ole tornado hit downtown Lubbock, TX. It was at the time the costliest tornado with $135 million in damage and it killed 26 people. I'm pretty sure it was the first one to hit large buildings and resulted in the demolition of a multi-story steel building due to a slight twisting of the superstructure. However, I cannot recall the source…I'm relying on my aging memory.
In 1934, a big ole dust storm swept the nation clouding the skies across the eastern US from Atlanta to Boston. This was in the depths of the dust bowl years and from this we learned better farming techniques so as to avoid a repeat performance. See, there are many many known problems facing us, not theorhetical possibilities. We dont need to invent problems. I think politically we are missing the boat. Water pollution is real and is rampant and yet no one does anything about it. It is not speculation or computer modeling that shows that the oceans and fresh water sources are indeed contaminated. That, in my view, is where our political resources should be going. There is also a problem with a lack of water in many locations where there are more people living than existing resources can support as well as areas where non-indigenous vegetation soaks up limited water resources. This is a far bigger problem for now and the future than most people recognize.

_uacct = "UA-1763609-1″;
urchinTracker();